Osnabrück/Lehnin, 16 Janu­ary 2022 - Since the begin­ning of 2022, we have been able to use a Bundeswehr hall on the mili­tary train­ing area in Lehnin for our purposes. For the handover of the keys last week, some repre­sen­ta­tives of @atfire_de were welcomed by Major Matera and the Bundeswehr fire brigade.
In future, the hall will mainly house equip­ment and vehi­cles for fight­ing vege­ta­tion fires. Among other things, a command vehi­cle, an all-terrain vehi­cle (ATV), our @mercedesbenzunimog and a trailer are stationed there.
In addi­tion to the vehi­cle park­ing spaces, an office, a lounge and a stor­age and work­shop area will also be set up.
The new loca­tion is centrally located, with dual motor­way access 45 minutes south of Berlin and also serves as a contact point for our members in east­ern Germany.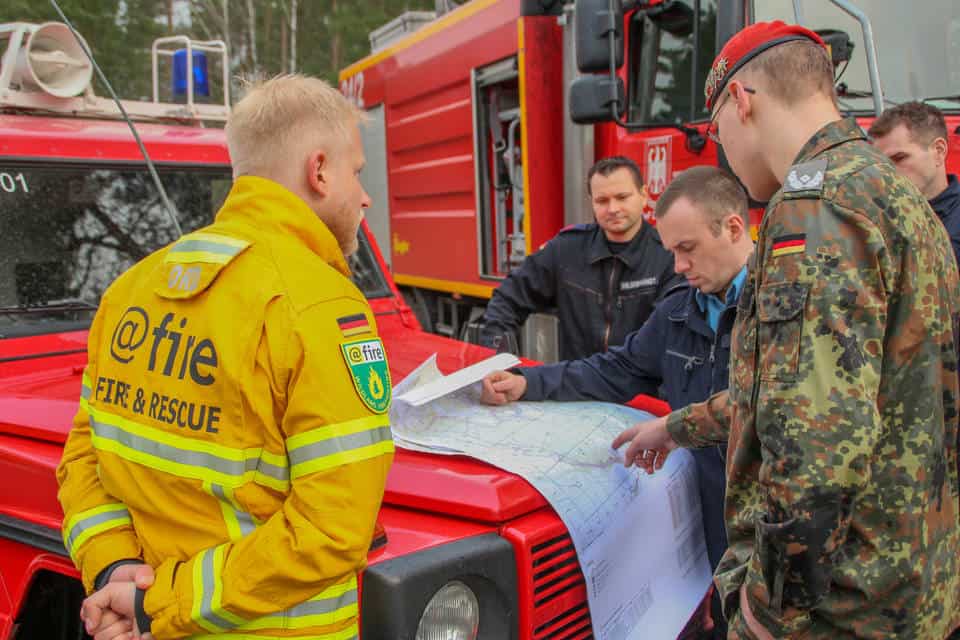 After hand­ing over the keys, the burn­ing areas of the past two years on the grounds of the mili­tary train­ing area were inspected again and a look was taken at the areas planned for the current year.
The first mate­r­ial was also moved in the direc­tion of the new hall. Further mate­r­ial will follow in the near future, or is still being sought:
Do you have office desks (approx. 1.60m x 0.80m) and corre­spond­ing office contain­ers or furni­ture, such as a sturdy work­bench or heavy-duty shelves, for our work­shop area? Then get in touch with us!